Shin Tai Plastic Industrial Co.,Ltd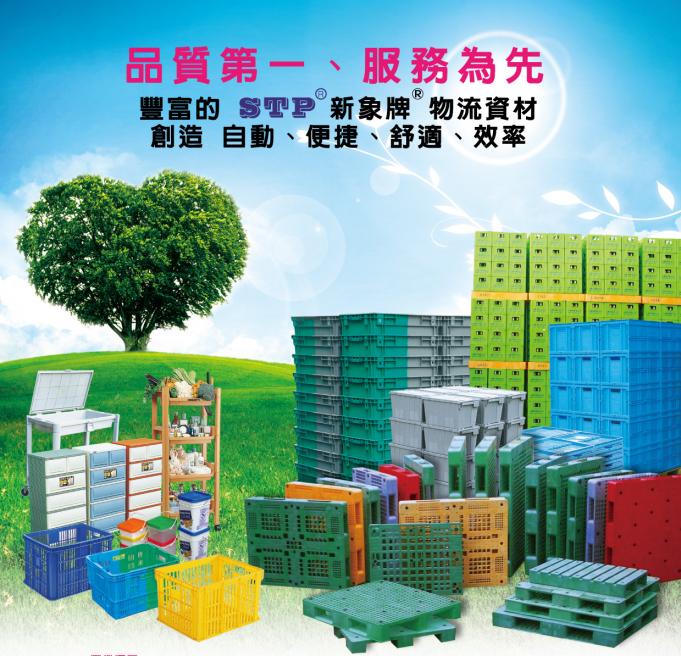 Your Plastic Material Handling Systems Solution Provider

Company History
1970: Company was founded by Mr.C.C. Liu. in Taipei,Taiwan. During
that time the demand for plastic products was growing and
plastic injection molding technology was gradually matured.
1975: Built a plant at Taoyuan covering area around 3305 m2
1982: Relocated the plant to Chungli Industrial Park and established
the company headquarters.
1987: Added a new plant in Chiayi covering area around 39670 m2
1988: Established a Huayu warehousing and logistics company
operating logistics and distribution services.
1996: Established the Shinplast company in U.S.A. for the warehouse
and product distribution in the United States.
2002: Passed ISO 9001:2008 certifications as a certified plastic
injection plant.
2005: Established Shia-Tai Energy Technology Company developing and
manufacturing solar panels and water heaters.
2009: Purchased many rapid injection molding machines to expand
business into containers packaging industry.
2011: Build an new plant with Automated Storage and Retrieval
System. The plant is expected to be in production in fourth
quarter in 2013.

Company Offices in TAIWAN

Chung-Li Plant and Headquarters
No.10 Songjiang North Road ,Chung-Li Industrial Park,Chung-Li,
Taoyuan County, Taiwan
TEL :886-3-4611722, FAX :886-3-4521322
E-mail: s172921@ms24.hinet.net


Chia-Yi Plant
No., 160, Ta Lun Village, Shui Shang,
Chia Yi County, Taiwan
TEL: 886-5-3713860 FAX: 886-5-3715788
Email: stp@shin-tai.com.tw


Taichung Sales Branch Office
No.206, Sec. 3, Taiwan Blvd., West Dist.,
Taichung City,Taiwan
TEL :886-4-23119165 FAX :886-4-23110717


WuGu Branch Sales Office
#14 , WuGongSix Road
WuGuIndustrial Park,
WuGu, NewTaipei,
TEL :886-2-22989201 FAX :886-2-22989161
Profile
| | |
| --- | --- |
| Established in: | 1970 |
| Business Type: | OEM Manufacturer ODM Manufacturer Exporter/Agent |
| Markets: | World-Wide |
| Main Products: | Plastic pallets, collapsible bulk container, plastic containers, Automatic logistic storage system, Tooling / Mold-Making |
| No. of Employee: | 150 |
| Location: | Taiwan |
Contact Detail
Contact:
Nina
Address:

No.,160, Dalun Village, ShuiShang Township, Chiayi Country, Taiwan R.O.C

(TEL:886-5-3713860,FAX:886-5-3715788)

No.10 Songjiang North Road ,Chung-Li Industrial Park,Chung-Li,Taiwan R.O.C.

(TEL:886-3-4611722,FAX:886-3-4521322)

No.14 , WuGongSix Road WuGuIndustrial Park, WuGu, NewTaipei,Taiwan R.O.C.

(TEL :886-2-22989201 FAX :886-2-22989161)

TEL:
-- 
Email:
stp@shin-tai.com.tw
nina@shin-tai.com.tw
steve@shin-tai.com.tw

URL:
http://www.pallet.tw